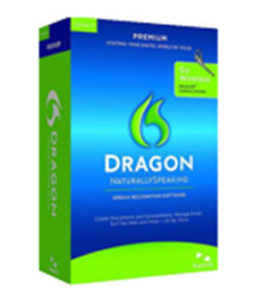 Content creation has always been a difficult task for most marketers constantly trying to creating unique content daily or weekly can get very difficult, so I started to look for a solution to help produce more content and in my quest I found a great solution and it was Dragon NaturallySpeaking 11.5.  Dragon 11.5 Premium – is an update of Nuance's Dragon 11 – some of the new features are powerful new voice commands, faster performance and improved accuracy. Dragon 11.5 also supports the latest operating systems and new applications.
It incorporates usability enhancements and user interface for profile creation, the correction process, the Dragon Sidebar, and even more.   Dragon NaturallySpeaking 11.5 is also a free update for users of version 11.  In all, Dragon NaturallySpeaking 11.5 is more accurate and faster than the prior Dragon NaturallySpeaking versions and better for producing more accurate content for your readers.
Dragon NaturallySpeaking 11.5 Premium is writers chose for producing accurate content in seconds.  Dragon 11.5 recognizes speech accurately and you can spend considerably less time dealing with recognition errors and more time concentrating on producing better content for your readers.  An important feature of Dragon 11.5 is its time-saving voice commands, which is great for producing those spur of the moment ideals and thoughts that come to mind for Facebook or Twitter.  That is why have chosen  Dragon Naturally Speaking 11.5 Premium it can be a very useful tool for Social Media Content, Article Marketing, Content Creation, Commenting on Blogs and much more.
Dragon Naturally Speaking 11.5 Premium for Social Media Content
Using Dragon 11.5's new voice commands for twitter and Facebook is one the funniest part of using this software it has the ability to post to Twitter and Facebook by voice command this has increase my productivity  up much faster when I'm posting my updates by typing .
Having this additional feature in latest version gives me the ability to get more tasks done just by speaking whatever is on my mind straight to Facebook and twitter.  Here are a few suggestions and tips how you can use this software for your Facebook and twitter followers.
Facebook – One can update Facebook by just saying, "Post that to Facebook," or "Post to Facebook."
Post more often on Facebook.
Respond to chats more quickly on Facebook.
Produce more content on Facebook.
Answer group questions more quickly on Facebook and keep your members more engaged in your group.
Twitter – Use the Social Networking command like "Post that to Twitter."  More Twitter commands are "Post to Twitter" or "Tweet [text]."
Download a free trial account of Tweetadder.com then use Dragon 11.5 to create short tweet messages and schedule multiple twitter post.
Use Dragon 11.5's voice feature to tweet quickly.
Article Marketing with Dragon Naturally Speaking 11.5 Premium
Article marketing is still one of my favorite marketing strategies to do but the only downfall to this is that you have to produce so much content to get any kind of good results from you work.  So here is one of my suggestions on how you can use Dragon 11.5 for article marketing by now most marketers have heard of spinning in content to produce more content.  Here is my step-by-step plan for producing content for article marketing
Make sure to do good keyword research on the topic you want to write about and make sure there is a market for it. I recommend ( Secockpit.com or Marketsamurai.com if you don't want to paid a monthly fee.
Get a content spinning tool like thebestspinner.com, Spinnerchief.com
Make sure to research your subject thoroughly because just producing content is not good enough for the search engines your content has to influence the visitor or make some kind of good impression so that visitor doesn't land on your page and bounce right back off.
Now here comes the part we you can use Dragon 11.5 if you ever spun an article you know that just spinning synonym words is probably going to get you about 30% to 40% uniqueness and that's not going to cut it, what you should do is use Dragon 11.5 to rewrite each of your sentences at least 3 times to have hundredths of highly unique articles.
After making your articles you can now submit them to many article directories with unique content.
Blog commenting – Never losing a great comment again with Dragon 11.5
Blog commenting was one of the first ways I use to get backlinks to my site and I used to find it, difficult to try to keep up with all my thoughts and trying to type them out on the blogs most of the time I would forget my thoughts before I could get the comment on the blog, but now with the help of Dragon NaturallySpeaking 11.5 Premium I can post comments on a unlimited amount of blogs just by speaking without worrying about losing some of my best thoughts of the writers post.
Dragon 11.5 takes out the hassle of blog commenting now all you have to do is use a service like blog commenting demon found the  blogs that want to comment on and after reading the post I'm just one thought away from producing a comment on that blog.
Apple Devices combine with Dragon Naturally Speaking 11.5 Premium
Dragon NaturallySpeaking 11.5 Premium also has the new Dragon Remote Microphone app that turns your iPhone into a wireless microphone recorder.  This makes it more comfortable and easier for you to capture your ideas and thoughts and never losing a great idea again.
The Dragon Remote Microphone app works with the iPhone 3G,  iphone 3GS and 4, the iPad and ipad 2 or  the iPod Touch 4th generation running on iOS 4.2, or later.  Here is a quick video on how to set up your Dragon Remote Microphone app with Dragon.
While not available on Dragon Home, the new audio input options of Dragon allow you to speak directly into their computers via the microphone that is free with the Dragon software purchase.  With the Dragon Remote Microphone app (which is free app and can be downloaded from iTunes), users can get the same transcription with your iPhone.  The microphone app converts your Apple devices into a wireless microphone through Wi-Fi.  And you don't have to buy any extra equipment because you have everything that you going to need on your iphone.
Dragon 11.5 also has an app for capturing some of your best ideas no matter where you are it can also be use with your iPhone, iPad or iPod touch as a digital voice recorder.  Check out the video for more details
If you are into giving interviews with experts in the field Dragon NaturallySpeaking can also translate recorded messages.  The way to use Dragon 11.5 to do this is a little tricky but it can be done. is to recorder interviews with an expert in his field
Final thoughts
With the Dragon NaturallySpeaking 11.5 Premium, one can expect it to be easier and faster to make content.  It improves system messages on program tasks like Accuracy Tuning.  The new system messages enumerate requirements for tasks to be run and explain how to shift set tasks and give direct access to online help.  For the best performance run Accuracy Tuning and ensure that optimum levels of recognition accuracy are transferred to the updated user profile. Dragon Naturally Speaking 11.5 Premium is also available for Mac users.
Additional Resources: If you are looking for additional ways to create unique content you might want to also check out Articlebuilder.net just a few clicks of the button you can have tons of unique articles made for you in seconds.